There are many advantages to adding a Fitness Center at your Workplace!
There are many advantages to adding a Fitness Center at your Workplace!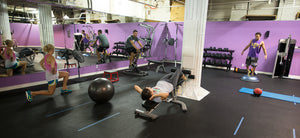 We recently installed fitness equipment at 3 locations in the Chicago area that covered different size rooms with different expectations.  Our goal was to show that each of these companies could offer the many benefits to its employees that a Company Fitness Center has.

The companies ranged in size from 30 people to hundreds, and the rooms were 450 sq.ft., 750 sq.ft, and 2,000 sq.ft.  Although each room had its own unique layout, the reasons to create the fitness space were similar. These included: fostering a healthy work environment, creating a socially fitness atmosphere, increased energy, boosts productivity, better time-on-task, stress management, improves work-life balance.

Red Frog Events, the makers of Warrior Dash and Firefly, wanted to offer a vibrant hub based on activity and fitness. Red Frog already had the foosballs, pingpong tables, and a social game area, but they wanted to offer exercise options in a converted basement space of 2,000 sq.ft.  
Equipment included: Functional trainers, TRX, Treadmills, Ellipticals, and an Indoor Cycle area that users could compete and play with the co-workers.

Village of Palatine Illinois constructed a new city hall, and added an employee fitness and wellness room. We took a 750 sq.ft. space and placed in a variety of products that would appeal to all ages and all ability levels. We knew that most of the users would be beginners and intermediate users and would have a relatively short time to workout.
Equipment included: 2 Treadmills, 2 Ellipticals, 1 Rower, 1 Upright Cycle, Multi-Station / Universal gym with 4 stations / Free weight area with Dumbbells, Kettlebells, Med Balls and stretch mats.


Chief Enterprises is a small manufacturing and distribution company that wanted to engage its employees by offering a Wellness Program focusing on physical, emotional and financial health. We took a small space and maximized the equipment in the room. Since many were active with Cardio outside of work with running, walking, cycling, we concentrated on strength and toning.
Equipment included: Commercial Rack / Cage, Free Weight area with Benches, Functional equipment: SandBells, KettleBells, Exercise Balls and resistance tubes.

Axtion Fitness provide fitness equipment and professional training for the Home, Workplace, Studio and Medical centers in the Chicago area and across the country. We can help you design a fitness area in any size space and with any size budget to maximize engagement and results.

www.axtionfitness.com
Connect with us on Facebook: https://www.facebook.com/AxtionFitness/